Paul's
Student Achievements
My son Ryan had developed a keen interests in music as a child and has been playing pop pieces on the electronic keyboard through self-learning efforts for many months. Having noticed his keen interest and fairly good ability to play the instrument, my wife and I sent him to a commercial music school located within the neighborhood for formal learning with the hope that he could progress in this interest and be accorded the formal grades as he move along.
Having been following the school's schedule and training program (ie. one session a week and 30 minutes each session) for about 18 months, during which he had been assigned various different teachers, there seem to be no opportunity to progress into grading. At this music school, we have had no opportunity to interact with the teacher to understand Ryan's learning progress as it was always based on a 'touch and go' approach given the very limited amount of time allocated to each student. The only time we will hear from the school is when the next term fee is due. Ryan was also not being guided in his theory and sight reading during his 18 months of learning there and it came to the point we were compelled to feel that the school method was impeding his learning rather than enabling his progression.
Being a concerned parent who wish for nothing but the best learning opportunity for our children, this is when we told ourselves we are done with the school's system of training and proceeded thereon to search for a professional private piano teacher whom we believe and hope Ryan could receive proper training and mentorship from, insofar as formal piano training is concerned.
I began to forage through the internet for credible piano teachers profile and it did not take long before I stumbled across Paul Ng's profile and note that he has a solid number of credentials and few decades of teaching experience. I was overjoyed with the finding as the credentials and experiences itself speaks volume about Paul. I would think it is fair to say that only a truly passionate teacher could be in this profession for the long haul. My first instinct upon sighting Paul's profile was to engage him and ask if he would accept Ryan as his student. The only concern I had at that point of time was that Paul will be so popular and high in demand to the point that he will have no capacity to accommodate another student but I called anyway to explain my situation.
To my pleasant surprise, Paul was receptive and invited us to visit his home studio within the next two days for an assessment on Ryan and for trial lesson. I seized that opportunity, kept to the appointment and the assessment went very well. We have never look back since. Teacher Paul would welcome me as a parent to sit in and observe the lesson just so that I am kept aware of the skills he imparts to Ryan as well as his learning progress. Through this journey, Paul has proven himself to be a passionate teacher and the real deal that we have been looking for in coaching Ryan. After 12 months of intensive training with Paul, Ryan went from zero grade to achieving distinction in ABRSM grade FOUR practical exam and made us really proud.
Looking back at the journey so far, Ryan's good work habits and self-confidence were greatly enhanced through Paul's mentorship. It has also shed lights in helping us as parents see where our son stands in terms of his musical ability. On the balance, it has been an enriching experience for us in this learning journey with Paul who has been remarkable in the work that he does. It is my hope to see Ryan continue to grow and mature in his musical ability under Paul's continued guidance.
Victor Sng
"庆新,
时间匆匆,朝起朝落, 日覆一日。 年过 一年, 也忘了总共给你寄了多少张生日卡, 只记得Chester 六岁开始跟你学钢琴。 今年他已经36岁从一个朦朦胧胧的小孩, 而如今已为人夫为人父。 而Chester 在音乐方面的成就该归功于你这位启蒙老师。 这些年来我们一家 对你都心存感激, 每年在你生日这一天, 百忙中也一定会给你寄上祝福…..祝你生日快乐,身体健康"
川培&雪芬
贺
---
Dear Mr. Ng,
You have taught me many things over the past 10 years since I became your student in 1999. A good teacher achieves results, and there is no doubt about your ability to teach; I have my Grade 8 certificate and a wide repertoire of pieces to play. But you are more than a good teacher – What made you a great teacher was that you taught me to not only appreciate, but also enjoy music. Never mind if your students do not have a gifting for music or the piano. Never mind if people see you only as a piano teacher. Ultimately, it is the few whom you have taught to love music as a whole that matters, and I thank you for teaching me just that. Even as we move on, I pray God bless you with many more fruitful teaching years to come.
Yours truly,
Joseph Choy
---
Testimonial from Patricia, Lecturer in Polytechnic
Teacher Paul is a gifted musician who is passionate about music and in his teaching. He has a childlike ability to exuberate and bring out the joy of learning to play each piece of music. I had stopped playing the piano since I passed grade 7 in the late 80's and had not really touched the piano since, for nearly 25 years. I was not sure if I could ever play the piano well again and asked Teacher Paul to teach me playing from grade 2 pieces. He assessed my playing during our trial session and decided to start me playing pieces that were at grade 4 standard. I wanted to learn at my own pace; just to enjoy the music. Teacher Paul was patient and he knew exactly what I needed. He paced with me and he inspired me with pieces after pieces of great music. He has also corrected my techniques with effective finger exercises. Today, after a mere one and a half year, I am back to playing at grade 7- 8 standard. My sight reading and aural have also improved by leaps and bounds. Of course, all these are not without sweat. Daily practice is a must, plus Teacher Paul's attention to details and techniques, I am able to pick up this far. Teacher Paul has brought back my confidence in playing the piano again! I thank God for leading me to Teacher Paul. Regards
Patricia
---
Testimonial from Jiayu, Engineer
Dear Mr Ng,
I have learnt a great deal from you. What differs you from other teachers is your unique insight into the process of learning. You are able to see how students link different knowledge together and can describe with intricate detail how to piece together different knowledge. You combine theory with practical allowing students to see theory and practical as a whole rather than two separate categories. Furthermore, you have great improvisational skill that is able to bring lesson to life. You truly are a remarkable teacher who will bring great joy to your students and impart great wisdom to the students who have attended your class.
Yours truly,
Jiayu
---
Dear Mr. Ng,
You are a passionate piano teacher with lots of experience. I have learned and am still learning a lot from you. Even though you have only been teaching me for a few months, my piano skills have greatly improved. Every lesson, we would start off with theory, where you would patiently correct my mistakes. Then, we would move on to finger exercise, which improved my finger techniques. After that, we would move on to sight reading, scales, aural tests and playing pieces, which were all essential to my improvement. Your lessons are very enjoyable and fun, yet full of meaning. After changing piano teachers 2 times, I have finally found the right teacher who is patient and dedicated to what he does.
Yours truly,
Zule
---
Hi Paul,
As promised, here's my piano learning journey testimony with you,
I learnt a lot from Paul as my piano teacher. Thanks to teacher Paul I was able to achieve ABRSM grade 4 in within less than a year of learning with him, and I had not previously taken any exam before!
He is extremely passionate with playing the piano and that really motivated me to learn this musical instrument under his teaching and guidance. He is a very experienced teacher who is able to correct my mistakes promptly. He has also taught me the right ways to play the piano so as to best bring out the beauty in the music.
Paul also continually inspires me to listen to great pianists and piano compositions, and he explained with enthusiasm reasons why he admires the great pianists such as Arthur Rubinstein and famous composers such as Chopin.
I'm glad to have Paul as my piano teacher who indeed help make my piano journey an enjoyable one!
Thanks Paul!
C. A. Sim
---
Hi Paul,
As promised, here's my piano learning journey testimony with you,
I learnt a lot from Paul as my piano teacher. Thanks to teacher Paul I was able to achieve ABRSM grade 4 in within less than a year of learning with him, and I had not previously taken any exam before!
How playing the piano becomes a part of my life
It was just another usual afternoon when my dad was on his delivery rounds where he bumped into his primary school classmate, and it turned out to be a serendipitous encounter for me instead. He learnt his classmate had left teaching at Yamaha music school to embark on his new profession as an independent piano teacher. He came home with the piece of news and asked me if I'd like to learn under his classmate. I nodded my head and that marked the start of my past 28 years learning from Mr Paul Ng how beautiful the instrument of 88 white and black keys can be.
In my memory, Mr Ng was rather strict in the early years of my lessons which definitely was difficult for me, at the age of 8 years old, to appreciate. But as I grew up, I realized its because Mr Ng took great pride in transferring his knowledge to his students and had hoped for the same level of enthusiasm and reciprocation from his students. Through music, he taught me perfection is something we should strive for and the satisfaction gained from climbing greater heights each time, which influenced me beyond music to other parts of my life too.
In Singapore, chasing after paper qualifications in all fields is the norm. While it is important to gain the required certification as a testimonial to our knowledge and skills in piano playing, Mr Ng was never for the idea of confining the curriculum to a "ABRSM-exam taking" one. So I took my exams every alternate year (skipping a grade each time) and I would spend the year in between exams learning pieces which I enjoyed and yet continued to hone my playing skills and appreciation of music. Mr Ng does not dictate when it comes to choose the next piece for our practices. He typically recommends a few pieces and I will make my choice among them, and I can also suggest the pieces I love and hear his inputs about them which definitely makes our lessons more interactive and fun.
Other than playing piano pieces, learning music theory, training up our sight-reading and aural abilities, Mr Ng also taught me improvisation on the piano, how the piano can sound like a thousand other instruments at the same time, introduced me to the world renowned pianists and watched videos of their performances (before we had the internet and youtube). Mr Ng takes effort in holding student recitals too, for all of us to gather, appreciate each other's playing and build up our confidence by playing in front of a crowd. I still getting the jitters each time I have to move up in front of everyone and start playing. Notwithstanding the fact that I do fumble in the midst of my playing, I truly enjoy the interactive recital sessions up to today.
There is always the point of decision when one passes his Grade 8 piano/theory exam: To continue or not? I had this struggle too but it didn't took me long to decide I shall continue – another 18yrs, and I didn't look back. I like how playing the piano create a balance in my life, taking me away from the logical and numerical world that I am usually in at work, akin to developing characteristics of both the left and right brain. I won't say I am good at playing piano even after these years, since I have pretty little time to practice these days, but there was never a thought of giving it up at all. And I'd like to thank Mr Ng, for these years, in teaching me to appreciate the beauty of music, and making piano playing an integral part of my life.
Student of Mr Paul Ng since 1987
Goh Pei Woon
---
By Ryan Sng
---
By Jane
---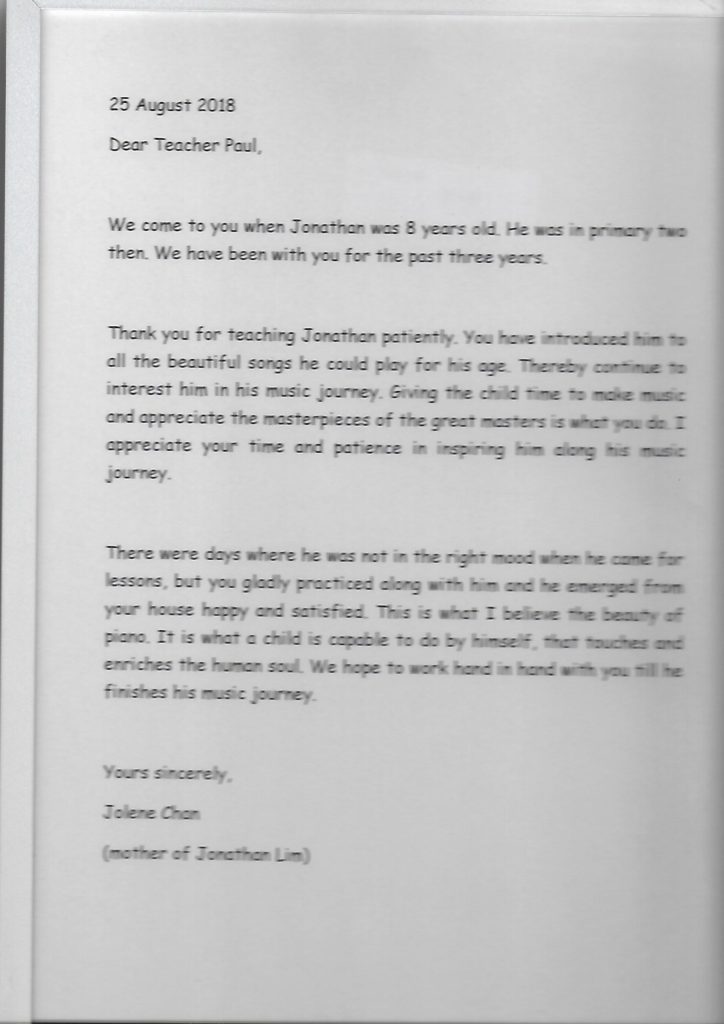 By Jolene Chan, Mother of Jonathan Lim
---
CONTACT ME FOR A FREE FIRST LESSON
With more than 47 years of piano experience, I am confident that you will enjoy playing the piano.
HOW TO CONTACT ME
Address:- 317A Anchorvale Road #12-226 Singapore 541317
Office Number:- 6286 1137
Phone Number:- 9270 5370
Email Us:- bingopaul88@gmail.com